As long as I can remember, television has been an integral part of my life. The curious 5 year old that I was, often indulged in things far beyond her age group, I suppose this came with being the youngest sibling and often unattended. Much to the dismay of my mother, I used to say that the Black box raised me, however I will admit the only way I now consume TV is on my laptop in a binging marathon and this is thanks to the popularity of streaming platforms (both legal and ummm…. not so legal)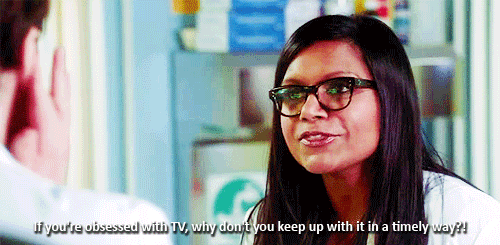 About two years ago, I found myself really diversifying my consumption of content and now subtitles rule my life. I've compiled a very short list of shows from 5 different countries. These really left a true and lasting impact on me and I believe would be really worth your time.
Parks and Recreation– THE US OF A
I fear the wrath of The Office enthusiasts being inflicted upon me, but when I think about a show that truly makes me happy, even after all these years, it has to be this one. Beyond how it makes me feel, it had a very real cultural impact with catch phrases like "treat yo self" (which you should all in fact do, we support self care here), how we deserve government employees like Leslie Knope and Ron Swanson being the physical manifestation of Grumpy Cat (RIP). It did however make Chris Pratt famous, but I am willing to overlook that.
Downton Abbey – THE UK
British aristocrats in beautiful gowns, enchanting us with wit, set against the backdrop of WW1, AND MAGGIE SMITH? Need I say more? Period dramas are admittedly not for everyone and probably(read definitely) lack diversity, but this remained so posh yet scandalous, and I could not help but adore it. Season 1-3 remain superior, but I am very excited for the upcoming movie.
Skam( Shame) – NORWAY
Never in my life did I think I would be enthralled by a show that was based on the lives of Norwegian teenagers, but stranger things have happened. This show was very unique and raw in its story telling, each character even had real social media that were updated according to the plot as the show aired, which is something really never done before. It felt like authentic portrayals of teenagers (with slightly more European freedoms, which I cannot relate to). The show also gained recognition as it had a season dedicated to LGBTQ + characters and one of the BEST representations of an on screen Muslim character I have ever seen. It became so popular worldwide that countries like the US and Italy have made their own adaptations (although I have yet to give them a try).
It is a little fun to hear them speak Norwegian because it sounds like Afrikaans.
Chicago Typewriter – SOUTH KOREA
There are a myriad of Korean dramas that are excellent and very worth enticing your binging capacity, but I chose to recommend this one because it blends the past of Korea with the present day. It has elements of the Japanese occupation of Korea and the resistance, but at its core it tells the story of love and friendship. It remains one of the most hauntingly beautiful dramas I have ever watched.
If you would like a full list of recommendations or reviews, PLEASE TELL ME, oh and for places to watch them, since I do not want to get sued.
Tatta Hitotsu no Koi( Love of My Life) – JAPAN
Arguably, Korean dramas are better than the Japanese and I say that's revenge for the whole occupation, but there are a few gems that really stand out, this being one of them. The true romance sap that I am, really drank this story in. Set in the dreamy sea side city of Yokohama, the story follows two young adults from opposite sides of the social classes.
Truthfully, its a little Nicholas Sparks-esque but a lot less Southern and more fringeswept with intense stares.
That concludes my list, which is absolutely inconsistent, just like my taste in series. If any of you do try these shows, particularly the more obscure ones, I would love to know what your thoughts are!